Apple MacBook Pro 15 Quad Core i7 2.0GHz 8GB RAM 256GB SSD MC721 MacOS Monterey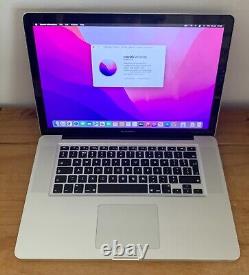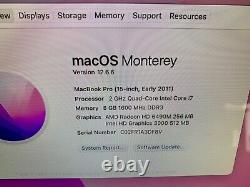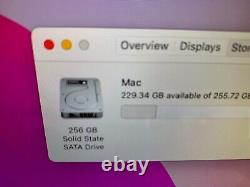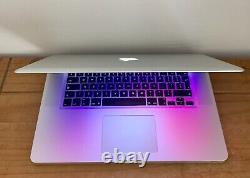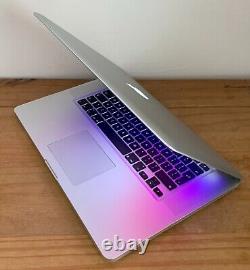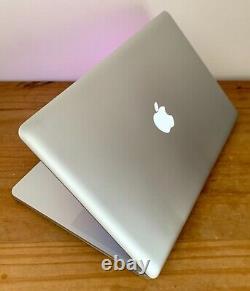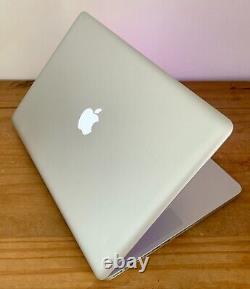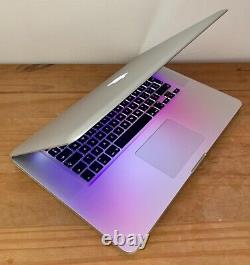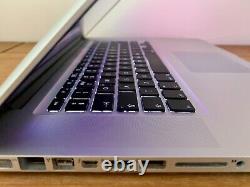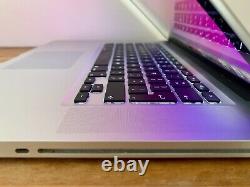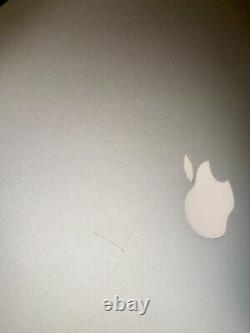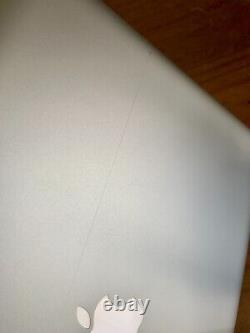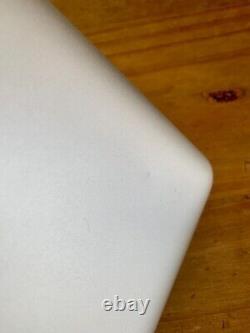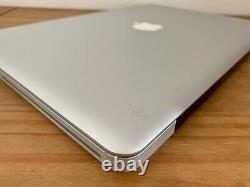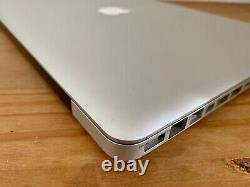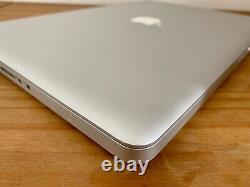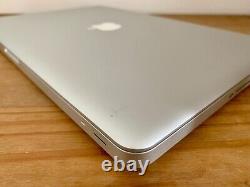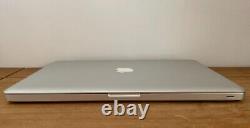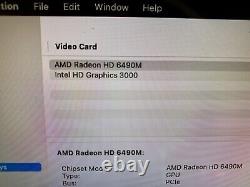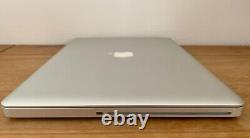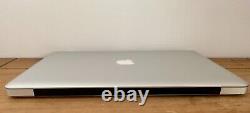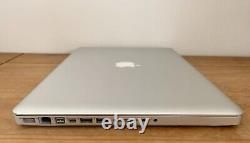 Apple MacBook Pro 15 Quad Core i7 2.0GHz 8GB RAM 256GB SSD MC721. An excellent condition 15 MacBook with a patched installation of MacOS Monterey. This offers a cost-effective way of experiencing a more up-to-date version of MacOS, as well as offering the ability to use apps which otherwise would not be accessible with an older MacOS.
It has been thoroughly cleaned, tested for full functionality and will be ready for use out of the box. 85W MagSafe 1 charger included. Patched installation of MacOS Monterey.
Good condition, minor signs of use (please see images). No cracks in screen, no play in hinge, no missing screws or feet.
Battery cycle count 1296 - Condition: Normal. Please feel free to ask any questions if you need further information.
The MacBook Pro "Core i7" 2.0 15-Inch (Early 2011/Thunderbolt) features a 32 nm "Sandy Bridge" 2.0 GHz Intel "Core i7" processor (2635QM), with four independent processor "cores" on a single silicon chip, a 6 MB shared level 3 cache, 8 GB of 1333 MHz DDR3 SDRAM (PC3-10600) installed in pairs (two 4 GB modules), a 256 GB solid state drive, an 8X DL "SuperDrive", dual graphics processors -- an AMD Radeon HD 6490M with 256 MB of dedicated GDDR5 memory and an Intel HD Graphics 3000 graphics processor that shares 384 MB of memory with the system -- and an integrated FaceTime HD webcam. The configuration of this model has an LED-backlit 15.4" widescreen TFT active-matrix "glossy display (1440x900 native resolution). Connectivity includes AirPort Extreme (802.11a/b/g/n), Bluetooth 2.1+EDR, Gigabit Ethernet, a Firewire "800" port, two USB 2.0 ports, separate audio in and out ports, an SDXC card slot, and a new "Thunderbolt" port that is backwards compatible with Mini DisplayPort and, likewise, supports an external display at 2560x1600 and passes an audio signal.
Thunderbolt also supports other peripherals that use the Thunderbolt standard which provides up to 10 Gbps of bandwidth in both directions. This model uses a "Unibody" aluminium case design -- milled from a single piece of aluminium -- and has a backlit keyboard, a "no button" glass "inertial" multi-touch trackpad, and a non-swappable battery design. Compared to its predecessor, this model has a very similar external enclosure, apart from a higher-resolution webcam and the aforementioned Thunderbolt port.