Macbook Pro 15 3.7GHz Quad Core i7 NEW 500GB SSD 16GB RAM DUAL GRAPHICS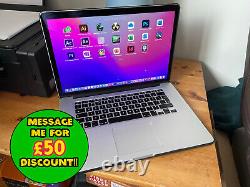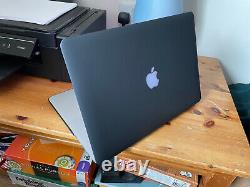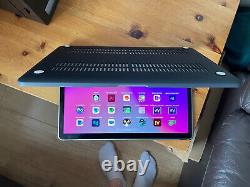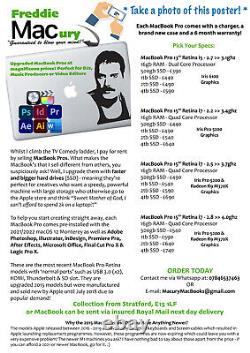 Perfect for DJs, Graphic Designers, Video Editors or anybody who wants a powerful machine with lots of storage. MSG ME IF INTERESTED IN ANY OTHER MODELS I SELL - SEE FREDDIE IMAGE.
MacBook Pro 15 Retina i7 Quad Core Processor Dual Graphics 2.5Ghz >>> 3.7Ghz (With Turbo Boost). 16GB RAM & NEW 500GB SSD.
What makes the MacBook's that I sell different from others, you suspiciously ask? Well, I upgrade them with faster and bigger hard drives (SSD) - meaning they're perfect for creatives who want a speedy, powerful machine with large storage who otherwise go to the Apple store and think Sweet Mother of God, I can't afford to spend 2k on a laptop? To help you start creating straight away, each MacBook Pro comes pre-installed with the 2021/2022 macOS 12 Monterey as well as Adobe Photoshop, illustrator, inDesign, Premiere Pro, After Effects, Microsoft Office, Final Cut Pro X & Logic Pro X. These are the most recent MacBook Pro Retina models with'normal ports' such as USB 3.0 (x2), HDMI, Thunderbolt & SD slot. Each machine comes in wonderful working condition, upgraded and maxed out with a huge BRAND NEW blisteringly fast NVMe SSD maxes out the Macbook's capabilities allowing you to run video, design and audio editing software flawlessly. Unless stated otherwise my machines come in B grade cosmetic condition or better! - Possible minor scratches, dinks. Nothing excessive, no big dents or anything like that. I don't sell MacBooks with batteries in any other condition apart from'Normal' and certainly not batteries with cycles beyond 900. I also clean the interior and replace the thermal paste, along with a thorough check that everything is working as it should.